MadPak® Sell Sheet
PDF
MADPAK Product Sell Sheet available for download.
Please click on the link below. 
I like how I can interchangeably remove and replace items with the MADPAK system. It's comfortable to wear all day."
— Michael F., Shooting Sports Professional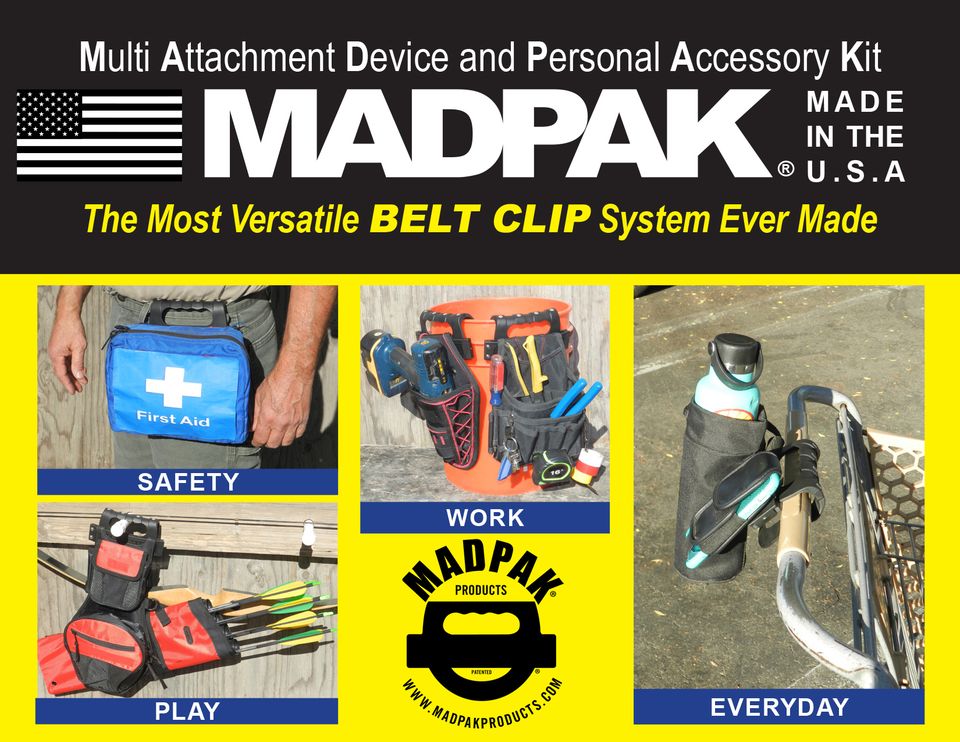 INSTRUCTIONS FOR USE
1. Open belt/clasp latch using thumb.

2. Attach and organize items to device having a belt clip or a belt loop up to six inches wide.

3. Close belt/clasp until latch clicks into locking position.

4. Carry using handle, or clip to any straight or curved edge or bar up to approximately 1 inch wide. Also hangs on peg/hook up to 1 inch wide.

5. Check latch before, during, and after use.

6. Attachment device will hold up to several pounds of items, tools, or equipment.

7. To remove PAK from belt, grasp handle, push device down to lower the belt retention tabs away from bottom of belt, rotate device to clear retention tabs away from belt, and raise device vertically to remove from belt.
 
Using the MADPAK system is definitely a better way to store, carry and use my tools and equipment.
— David C., Northern California Firefighter
Load Bearing, Organization & Portability Systems
PDF
My MADPAK product is very handy. I use it every day.
— Thomas N., Hunter / Farmer / Firefighter